Join Us On The Parenting & Family Life Webinar Series
We are pleased to present a series of informative webinars that will feature unique topics impacting marriage and/or family life. National and local presenters will be featured in each session.
Topics scheduled to date include a variety of parenting sessions, marriage enrichment, caregiving, support for veterans, surviving divorce, financial freedom and making happiness a habit. And this is just the beginning of what we have to offer. More webinars will be scheduled in the coming months.
We are grateful to the Diocese of LaCrosse Office for Marriage & Family Life for their collaboration on this series.
January: Teaching the Way of Love - Expect Correct Behavior
Everyone needs boundaries and goals - especially your children. Want to learn how to set standards that you can actually expect your children to follow? Join Jeff Arrowood and Alice Heinzen as they teach you the art of establishing boundaries and expectations that will help you develop your children's personal responsibility.
Teaching the Way of Love - Expect Correct Behavior
February: Teaching the Way of Love - Develop Virtue
Everyone wants to be happy. Did you know that the key to lasting happiness lies inside of you? True joy comes from a life of virtue rather than from the culture. Join Jeff Arrowood and Alice Heinzen as they share four habits that create a happy heart and describe ways to develop each.
February: Teaching the Way of Love - Develop Virtue
March: Teaching the Way of Love - Foster Faith
All people have a spiritual nature that should be nurtured on a regular basis. How are you doing this in your family? Join Jeff Arrowood and Alice Heinzen as they describe ways to make faith development an important part of daily life.
March: Teaching the Way of Love - Foster Faith
How Do We Teach the Faith to Our Children in a Secular World?
Parents want what's best for their children. Catholic parents understand that a huge part of giving their children the best is to bring them to the love of God. But how do we do that in a culture that increasingly rejects the faith? How do we form our families into environments of love, wisdom and faith in the midst of our busy, distracted lives?
Embrace Parenthood is the first step in the Teaching the Way of Love program. This online course (also available on DVD) will show you practical strategies that you can use to help your children form a good and strong character and to nurture in them the Catholic faith that will lead them to love both God and neighbor.
What is the Teaching the Way of Love Program?
Embrace Parenthood
Embrace Parenthood teaches the eight foundations of good Catholic parenting. It is intended for all parents, but especially for parents of younger children. Putting these eight principles into practice lays the  solid foundation needed for an authentically Catholic life.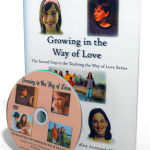 Growing in the Way of Love
Growing in the Way of Love empowers parents to accompany their children through puberty. It covers ways to help children navigate the physical changes that come with puberty and to discuss fertility appreciation. It also helps you guide your child's emotional, social and spiritual maturity.
Bodies & Boundaries
Bodies & Boundaries empowers parents to stay connected to their adolescent. It covers how to talk to your child about God's plan for human sexuality, love and marriage. It will also teach you how to talk with your children about discerning God's will for their lives and develop a sense of interdependence beyond independence.
Testimonials
I just finished the Become a Family segment you sent for review. I applaud both of you. I am so excited. I would call it Zeal!!!! I have been in parenting education for over 25 years in the secular world. Last year the Lord started calling me to take my gifts and apply them to my Catholic faith. I was starting to write a Catholic parenting curriculum and my eyes caught a blurb in a neighboring church bulletin announcing parenting classes. That is where I looked up yours. When I went to your website and saw Search Institutes developmental assets you sold me. I like informational sheets to back up your teaching. I am so excited and blessed to see such great work!
-Marti
Is Parenting a Duty or a Mission?
Parenting isn't easy. In fact, it can be downright frustrating. But that doesn't mean that it has to be just a duty . . . 
Well, I guess we have to do this. It's what we signed up for when we became parents.
Parenting can be fulfilling when you embrace it as a mission and part of your vocation to marriage and family life! This is what parenting with the heart of Christ is all about.
The challenges of parenting are part of the adventure of leading my child to true goodness.
You can see the difference for yourself!
Parenting as an Obligation Means . . .
Spending most of your time trying to control immediate behavior (putting out fires)
Parenting for your own benefit - to keep the kids from annoying you, to control noise level, etc.
Reacting to what the children have already done
Seeing children as an obstacle to happiness
Parenting As a Mission Means . . .
Spending most of your time and effort forming your child's character
Parenting for the good of your children
Proactively helping children make better choices
Seeing children as gifts from God that help perfect you
Teaching the Way of Love helps you parent with the heart of Christ and embrace your parenthood as a mission and as part of your vocation.
Are you ready to embrace your mission?
Monthly Parenting Strategies
Join us for monthly parenting strategies that will help you parenting with the heart of Christ. Each month you will receive an insightful article that shares a specific strategy that you can start using right away! This will help you form your child and yourself in holiness.
Current Articles on Parenting
There are three critical elements to which parents must attend when it comes to media; Time limits Content (what is being used) Context (how it is being used) How to Set Time Limits The American Academy of Pediatricians recommend that children under the age of two have NO screen time at all. Children over two…
Read More